The expert urologists at Comprehensive Urology in Beverly Hills constantly strive to provide men with the best prostate cancer care possible. From screening and diagnosis to treatment and aftercare, we always have our patients' health and quality of life in mind. The most common traditional prostate cancer treatment is surgery because of its track record of effectiveness; however, despite being effective, regular open surgery comes with complications such as a long and painful recovery, sexual dysfunction, and changes in urinary habits.
If you or a loved one have been diagnosed with benign prostate cancer (PCa), the best treatment option may be surgical removal of the gland. You may want to consider the many benefits of a procedure that has given prostate cancer treatment a revolutionary makeover in Beverly Hills —robotic surgery.
How Robotic Prostate Surgery Differs from Traditional Prostate Surgery
Men diagnosed with prostate cancer or benign prostatic hyperplasia (BPH) often undergo traditional surgery. However, this procedure can remove too much of the gland or even all of it, which is unnecessary in many cases. Consequently, a less invasive surgical procedure that preserves healthy tissue or the remainder of the healthy gland is a better prostate cancer surgery alternative.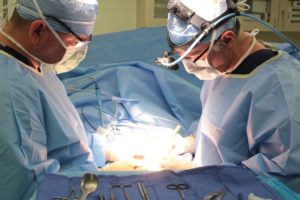 One minimally invasive option utilizes the da Vinci® robotic surgical machine. Robotic surgery is one of the most advanced surgical treatments available.
Unlike traditional surgery, minimally-invasive robotic surgery doesn't require large incisions. The cutting-edge technology requires only small incisions to remove malignant or enlarged prostate tissue. This gives the surgeon greater ability to precisely operate on the desired tissue by using very small and accurate instruments, providing 3-dimensional and magnified view, and allowing sparing and not damaging adjacent nerve tissue, muscles, or other organs.
Additional benefits of a robotic prostatectomy include:
More tolerable procedure
Less blood loss during the procedure
Decreased risk of some procedural complications
Minimal post-operative scarring
Better preservation of healthy, benign tissue
Faster healing and shorter recovery
Reduced post-operative pain
Minimized risk of infection
Types of Robotic Prostate Surgeries
Robotic surgical systems enable surgeons to perform complex yet minimally invasive procedures, including the following:
Robotic-Assisted Laparoscopic Radical Prostatectomy
One of the most common surgical prostate cancer treatments for our team is the robotic-assisted laparoscopic radical prostatectomy. A crucial reason for its popularity stems from its safety and effectiveness. A highly-trained surgeon using this system has a higher degree of precision and control, which helps protect surrounding tissue such as vital nerves or musculature.
Only five small incisions are made with a robotic prostatectomy; yet, these are enough for the surgeon to dissect and remove targeted tissue within the prostate – and the surgeon's hands never enter the body.
Due to the minimally invasive nature of this surgery, patients are able to recover faster; there's also less of a chance of blood loss or infection during the recovery process.
Robotic-Assisted Surgery for BPH
This minimally-invasive procedure allows the surgeon to remove obstructing parts of the enlarged prostate. For patients who have tried other treatments or for patients who have a severe case of BPH, this treatment option often proves effective.
Using this procedure, the surgeon also makes small incisions, although the number depends on how enlarged the prostate is as well on as the patient's overall health, symptoms, and treatment goals. Through these tiny incisions, the surgeon removes the targeted tissue before closing the incisions.
Recovering from Robot-Assisted Prostate Surgery
Although robotic surgery is minimally invasive, it's still a surgical procedure with risks. Compared to a traditional prostatectomy in Beverly Hills, though, the risks are reduced and most patients handle the robotic prostate surgery and ensuing recovery process quite well.
For example, patients often have a week-long hospital stay after a traditional prostate cancer surgery. On the other hand, after a robotic prostatectomy, patients can expect only 1-2 nights in the hospital.
For 7-10 days after surgery, patients can experience some pain or soreness, and swelling, all of which can be managed with medication and rest. Recovery and healing are different for each patient, so if you have concerns, be sure to discuss them with your surgeon.
The Innovative da Vinci Surgical System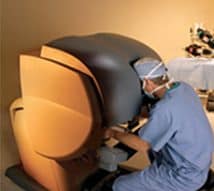 The most advanced robotic prostate cancer surgery platform is the da Vinci Surgical System. It provides high definition 3D and images that are 10 times magnified and allow the surgeon to precisely target diseased tissue without touching or damaging the surrounding tissues.
The system resembles a futuristic robot—four interactive robotic arms that a surgeon can completely control while at a computer console, mimicking the movements of the surgeon's wrists, hands, and fingers so precisely that it can make incisions less than a centimeter in length while the Beverly Hills surgeon watches closely on the high-resolution 3D viewer.
Because a da Vinci prostatectomy is minimally invasive, a patient can resume a normal schedule more quickly than after a traditional prostatectomy. Plus, clinical studies indicate that a da Vinci prostatectomy reduces the risks of such side effects as impotence or incontinence.
The system is easier on the surgeon, as well; it's ergonomically designed to allow him or her to perform the procedure from a seated position at the console. And it has multiple safety features in addition to technology that provides the surgeon better dexterity and precision.
For More about Robotic Surgery, Contact the Prostate Cancer Experts at Comprehensive Urology
Robotic procedures are revolutionizing medicine, and nowhere is this more evident than in prostate cancer treatment. To learn more or to schedule a consultation, contact us online or call our Beverly Hills office at 310.499.2756.
Next, read How REZUM Can Help Treat BPH