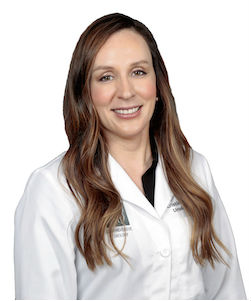 Dr. Cristina Palmer of Comprehensive Urology in Los Angeles is a urologist currently associated with the University of California, Irvine Health Chao Family Comprehensive Cancer Center, Long Beach Memorial Medical Center, and the Long Beach VA Hospital. She treats many urological conditions, including urinary tract infections, urinary incontinence, pelvic organ prolapse, urinary fistulas, interstitial cystitis, and vaginitis.
Dr. Palmer earned a bachelor of arts degree in political science from Villanova University in 2005. She attended medical school at the Chicago College of Osteopathic Medicine and earned her doctorate in osteopathic medicine in 2011. Following her graduation, Dr. Palmer performed her urological surgery residency at Cook County Hospital in Chicago. She trained at Cook County Hospital and Advocate Christ Hospital in Oak Lawn, Illinois and became proficient in endourology as well as open, laparoscopic, and robotic surgeries. Upon completion of her residency in 2016, Dr. Palmer began a two-year fellowship in female urology, voiding dysfunction, and pelvic reconstruction under Dr. Gamal Ghoniem, MD, FACS, at the University of California, Irvine.
Additionally, Dr. Palmer possesses comprehensive expertise with urodynamics and neurogenic bladder conditions. She offers treatment modalities to help patients address overactive bladder and urinary incontinence. Dr. Palmer also performs female and male reconstructive surgeries and benign prostatic hyperplasia (BPH) treatments using transurethral resection of the prostate (TURP) or GreenLight laser therapy. She is able to offer treatment for male incontinence with male slings and artificial urinary sphincters.
In her free time, Dr. Palmer enjoys running, hiking, downhill skiing, and spending time with her dog and cat.